So I did some user testing at my brother in law's company and got paid properly, so I ordered a few of the t-shirts that I've been designing over the past 5 years or so but haven't had a chance to actually purchase.

Since black t-shirts are the best thing since sliced bread, that's pretty much all I'm designing for anymore. Several companies are offering up print on demand t-shirts now. Recently, there was some magical improvement to print white ink onto dark garments as part of the process (thank you, alpha channel), and then just industrial-ink-jet-print as usual, and probably some kind of heat-setting process to lock it all into the fibers of the shirt.
So! part one of my research will cover Zazzle.com's quality. In fact, I can tell you that that Zazzle already has one thing going for it over cafe press: I ordered t-shirts on the same day, early in the day, from both sites, and my zazzle order showed up today. No cafe press shirts so far.
While I'm waiting for my other order to show up, let's take a look at how Zazzle did.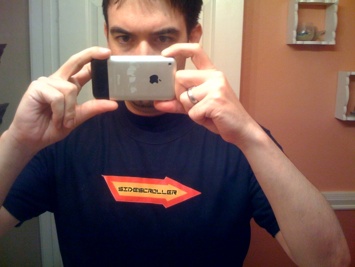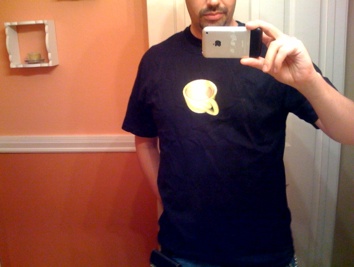 Overall, I'm happy with the quality of the print. When I look at the results from a north-american-personal-space distance away, the print resolution looks fine. When I just look down at the shirt while wearing it, it's very pixelated. I know for a fact from over a decade of professional experience that my graphics are *not* low res… so I'm guessing that due to the sheer volume of work that their printers are subjected to that they have an automated process of de-rezing everyone's graphics. Probably especially people like me, who intentionally load the absolute maximum resolution image size the system would accept. So, all in all, acceptable.
Once I wash these I'll report back to see how well they handle it.
Price is one of the ways that Zazzle and Cafe Press differ. Zazzle says "hey! thanks for designing something with our system! Someone bought one of your things,so here's a tiny tiny tiny commission." They do give you a "discount" to buy your own stuff, but for some reason it calculated the discounts unequally when I ordered one of each of these two designs. I don't know what the story is there, but it didn't make a lot of sense to me. No doubt these shirts are sort of a luxury because they run near $20 each with shipping, so it's sort of a big commitment.
I'll cover how cafe press handles price and commissions… when my order arrives.

Technorati Tags: cafepress, design, printondemand, zazzle